Wholesale Craft Nuts of Various Designs and Uses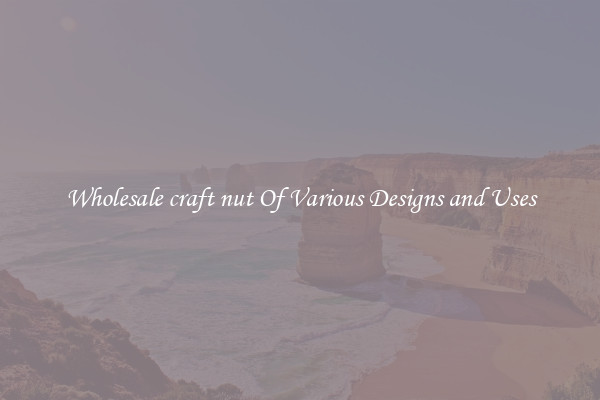 Craft nuts are an essential component of any DIY or craft project. They not only provide functionality but also add a decorative touch to your creations. Whether you are a professional crafter or someone who loves to dabble in crafts as a hobby, wholesale craft nuts are a great investment.
There is a wide variety of craft nuts available in the market, each with its own unique design and uses. Let's explore some of the most popular ones.
1. Hexagonal Nuts: These nuts are widely used in DIY projects and construction. They have a six-sided shape and a threaded hole in the center, allowing them to be easily screwed onto bolts or rods. Hexagonal nuts come in various sizes, making them suitable for different types of crafts.
2. Wing Nuts: As the name suggests, wing nuts have two "wings" on either side, allowing for easy hand tightening without the need for tools. They are commonly used in furniture making, as well as in lamps and other home decor items.
3. Acorn Nuts: Acorn nuts resemble the shape of an acorn, with a dome-shaped top and a threaded hole inside. These nuts are often used in jewelry making, as well as in decorative accents for picture frames and mirrors.
4. T-Nuts: T-nuts, also known as tee nuts, have a unique shape that resembles the letter "T." They are commonly used in woodworking projects, as they can be easily hammered or pressed into place, providing a secure anchoring point for screws or bolts.
5. Barrel Nuts: Barrel nuts have a cylindrical shape with a threaded hole in the center. They are frequently used in joining two pieces of wood together, such as in furniture construction and cabinet making.
6. Rivet Nuts: Rivet nuts, also known as threaded inserts, are used when a threaded hole is needed but cannot be directly created in the material. These nuts have a tubular shape and are placed into a pre-drilled hole, providing a threaded insert for screws or bolts.
Wholesale craft nuts come in various materials, including brass, stainless steel, and zinc-plated steel. This ensures that you can find the right nuts for your specific craft project, whether it's indoors or outdoors.
Purchasing wholesale craft nuts is a great way to save money, especially if you frequently engage in crafts or run a craft business. Buying in bulk allows you to stock up on nuts of various sizes and designs, ensuring that you have everything you need on hand.
In conclusion, wholesale craft nuts offer a wide range of designs and uses for all types of craft projects. From hexagonal nuts for construction to acorn nuts for jewelry making, there is a nut to suit every craft need. Investing in wholesale craft nuts not only provides functionality but also allows for creativity and adds a decorative touch to your creations. So, go ahead and stock up on these essential supplies and get ready to bring your craft projects to life.