When it comes to beautifying our outdoor space, garden railings and gates play a crucial role. They not only add elegance and charm but also offer security and privacy to our cherished gardens. However, finding a durable and low-maintenance option can be challenging. Luckily, there are rot-proof and elegant garden railings and gates available in the market that make this task easier.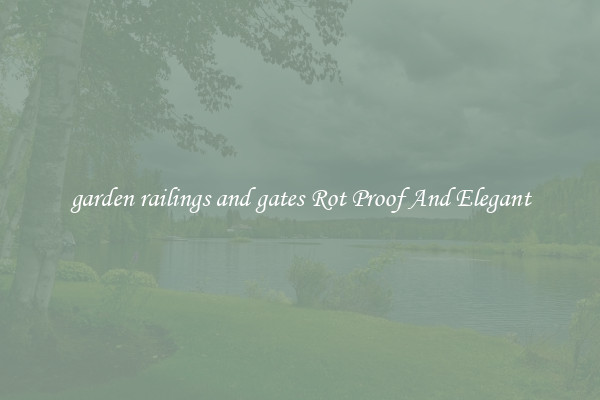 Rot-proof garden railings and gates are constructed using materials that are immune to rotting, such as vinyl, aluminum, or composite materials. These materials are specially manufactured to withstand harsh weather conditions, including heavy rainfall, intense sunlight, and extreme temperatures. Unlike traditional wooden railings and gates, rot-proof options do not require regular maintenance, such as sanding, painting, or staining, to prevent decay.
Vinyl garden railings and gates are a popular choice due to their rot-proof nature. Vinyl is a synthetic material made of polyvinyl chloride (PVC) that offers outstanding durability and longevity. It does not rot, peel, blister, or corrode. Additionally, vinyl requires minimal maintenance. A simple wipe-down with a mild detergent and water is enough to keep it looking pristine for years. With a wide range of designs and colors available, vinyl railings and gates can effortlessly add a stylish touch to any garden.
Another rot-proof option is aluminum garden railings and gates. Aluminum is renowned for its strength, lightness, and resistance to rust and corrosion. This makes it an excellent choice for outdoor applications. Aluminum railings and gates require minimal maintenance as they do not need to be painted or stained. They retain their appearance year after year, making them a cost-effective and practical choice for any garden style.
Composite materials, such as wood-plastic composites (WPC), are also a great option for rot-proof garden railings and gates. These materials are made by combining wood fibers with plastic resin, offering the best of both worlds – the natural aesthetics of wood and the durability of plastic. Composite railings and gates do not splinter, warp, or rot. They are weather-resistant and require minimal maintenance. A regular cleaning routine to remove dirt and debris will keep them looking beautiful.
In conclusion, rot-proof and elegant garden railings and gates are the perfect addition to any outdoor space. Whether you choose vinyl, aluminum, or composite materials, these options offer durability, low maintenance, and a touch of elegance to your beloved garden. Say goodbye to the hassle of regular upkeep and enjoy a beautiful and secure garden for years to come.